Lots of players from Texas could hear their names called on draft night this year, but there's one who is going to begin her WNBA career a little earlier than all the others: Texas Longhorns center Charli Collier.
The junior — who was able to declare for the draft because she met the league's age requirement, which allows some juniors to forego their senior seasons — has been talked about as the potential No. 1 overall pick for months, especially after the Dallas Wings acquired that pick earlier in the offseason. Dallas has a hole at center, and Collier could potentially fill it.
But while Collier's highs are as high as anyone in women's basketball, we've also seen her struggle against teams with size. So, what is a WNBA team going to be getting out of Charli Collier? What are her strengths? What are the concerns? Let's take a big, sweeping look at what Collier's going to bring to the Dallas Wings or, if Dallas passes on her, to one of the other teams with a high draft pick on April 15th.
Charli Collier's Background
First, let's run through what Collier did in high school and college to get a sense of how we got here.
The No. 2 ranked player in her recruiting class according to espnW, Collier took Barber's Hill to four playoff appearances, averaging 17.3 points per game as a freshman and then getting all the way up 30.9 points per game her senior year. She was a McDonald's All-American in 2018.
In her first year at Texas, Collier averaged 14.4 minutes per game, averaging 5.9 points per contest. But she started to make a leap in her second season, starting every game for the Longhorns and averaging 13.1 points, 10.5 rebounds, and 1.3 blocks per contest. That was the season that Collier started to wedge her way into the national consciousness, with it becoming clear by the end of the season that Collier had the ability to help a WNBA team. I know that on a personal level, I started thinking about how well Collier would fit with the Dallas Wings as Dallas struggled to find consistent center play during their 2020 season.
And then Collier's junior season happened. She scored 25 points against SMU to start the year, but the big moment when Collier stormed her way into the No. 1 spot in WNBA mock drafts was against UNT, when she scored 44 points and pulled down 16 rebounds against the Mean Green. Sure, UNT's biggest issue is size, but this was still one of the top teams in Conference USA this season, and Collier just ripped them to shreds.
Collier finished the season averaging 19.0 points, 11.3 rebounds, and 1.2 blocks per game. She was a first-team All-Big 12 selection and a finalist for the Lisa Leslie Award for the nation's top center. In addition, she was. Second Team All-American from the USBWA and a member of the Dave Campbell's Texas Basketball First Team All-Texas list.
Three years in Austin saw Collier go from a role player to a star. Now, she moves on to the pros, where she'll look to continue growing her game.
Collier's Strengths
You don't become a potential lottery pick without doing a lot of things right. And Charli Collier does a lot of things right.
Let's start on the offensive end.
Per Synergy, Collier ranked in the 95th percentile in points per possession this season. A lot of that was because she excelled in a lot of areas: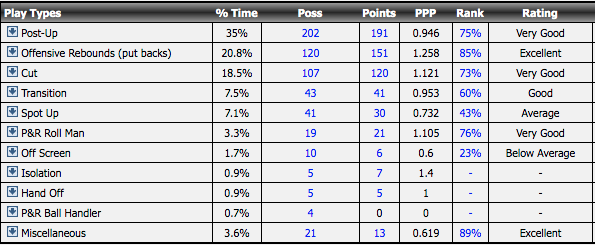 The only area where Collier saw a lot of work and struggled was on spot up looks, where she generated 0.732 points per possession. Otherwise, she posted strong numbers on that end of the floor.
Collier shot 10.7 percent above average in the paint (non-restricted area). As you can see in the highlights from her big game against UNT, Collier was just impossible to deal with at times:
When she has the size advantage inside and isn't being doubled or tripled, you just...don't stop her. Like, there's just not really a way to keep her from getting deep position in the post against most teams. She also has a strong nose for put backs, with her 4.4 offensive rebounds per game ranking in the 99th percentile and, as you can see from the chart above, her offensive rebounds generating 1.258 points per possession.
Collier's also a pretty good jump shooter for her position. No, the spot up looks weren't great, but per Synergy, she scored in the 79th percentile on pick-and-pops. She only had 18 possessions logged as pick-and-pops, but they were a good 18 possessions. In the Ben Dull video above, we even get to see her hit a three off the pick. If she's able to generate space on these plays, she can then use that space to get her shot off. She's not the quickest shooter in the world — which could explain why the spot up numbers aren't as good — but she's got an underrated face-up game.
Defensively, Collier usually positions herself well, and her size makes her an asset. She's not at her best when she's asked to defend in space, but get Collier down in the post and she creates a huge problem for opposing bigs and for players who are driving inside:
What about the Baylor games?
Here's the biggest concern people have about Collier: against elite competition — especially when that competition had a top center — Collier seemed to just vanish.
Why? Well, against Baylor at least, it had to do with a few factors. One is foul trouble: against a Lady Bears team that is built on getting the ball inside to their bigs, it's really easy to pick up some quick fouls.
The other problem was that Baylor just knew how to defend her. Let's take a look at a screenshot from the first quarter of the blowout Valentine's win for Baylor: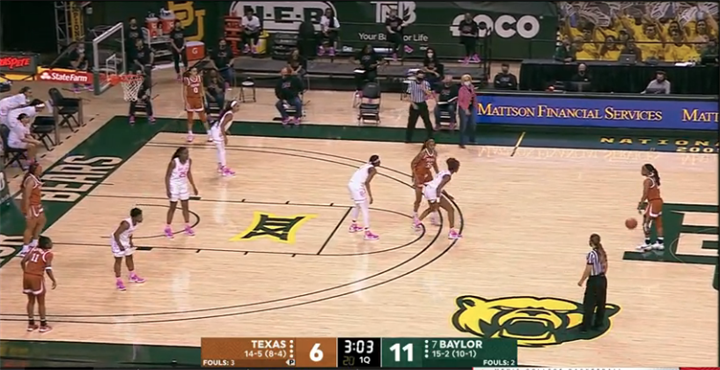 Collier is at the top of the key here, and look who else is there: both NaLyssa Smith and DiDi Richards.
Richards initially is defending the ball-handler, but then slides down to double Collier. Richards and Smith end up walling off Collier here, with one on each side of her. Richards is one of the best defenders in the nation, and on this play winds up defending both the ball-handler and Collier. She's just so good at positioning herself.
(Sorry, got on a DiDi Richards tangent.)
Anyway, this play results in a made bucket for Kyra Lambert, as Collier gets a pick that opens up space for her to drive inside. But Baylor seemed to mainly be concerned with keeping the ball from Collier. They do that on this play, and do it consistently all game. And when she does get the ball, Baylor kept her from getting easy looks, using their size to force her to take less-than-ideal shots. It was a good game plan.
Collier's issues as a passer also contributed to these struggles. She had an assist percentage of just 3.1 and averaged 0.4 assists per game. She also averaged 2.7 turnovers per contest. That's not a good ratio.
At times, Collier would be doubled against one of these strong teams and would wind up missing a shot or turning the ball over. Something she has to do at the next level is get better about getting the ball back outside when the defense collapses in on her.
But that's also something she can learn, and Collier's unlikely to see as much defensive pressure at the next level. Teams threw the kitchen sink at Collier this past season, daring the rest of this Longhorns team to beat her. But if she winds up in Dallas and has Arike Ogunbowale and Satou Sabally on the floor with her as well, she's going to be a lot more efficient. She might still struggle against a team like Minnesota, who has Sylvia Fowles inside, but she won't consistently face the kind of pressure she saw in Austin.
Collier has a great chance to be the No. 1 pick in this year's draft. And if Dallas does decide to draft her, they're going to be getting a really good player who can score on multiple levels and will be a good post defender. There are concerns, but the talent is too obvious to ignore.