In case you didn't notice, the Baylor Bears are no longer coached by Kim Mulkey.
The Lousiana native left rather abruptly earlier this year to take the head coaching job at LSU. When the rumors started to swirl about Mulkey heading east, it was hard to believe: why would Mulkey leave a perennial contender for a mid-pack SEC program.
But it happened. And Baylor responded by going out and making a splash hire, convincing Nicki Collen to leave her position as the head coach of the WNBA's Atlanta Dream just before the WNBA season began to become Baylor's first non-Mulkey coach since Sonja Hogg left the team following the 1999-00 season.
With a new coach in tow, will Baylor remain a contender? And how will Collen's offense differ from what Mulkey's did?
How Baylor's roster has changed since last season
NaLyssa Smith is back. An early favorite for National Player of the Year (and the frontrunner for the Dave Campbell's Texas MVP award) decided to stay in Waco for this season instead of following Mulkey to LSU.
But some players did wind up at LSU. Hannah Gusters and Moon Ursin both followed Mulkey to Baylor, though Ursin later wound up transferring again, going to Tulane.
In addition to losing those two players to Mulkey, Jordyn Oliver left for Duke, Trinity Oliver for Washington, and Chrislyn Carr – who was set to transfer in from Texas Tech – for Syracuse.
Recruit Maryam Dauda was committed to Baylor, but signed with Arkansas following Mulkey's exit.
The fact that two highly touted frontcourt prospects didn't stick around in Waco might suggest something about the future for a Baylor team that has spent much of the Mulkey era – especially the recent Mulkey era – focusing on the frontcourt. This is the school that paired Kalani Brown and Lauren Cox, then Cox with NaLyssa Smith, then Smith with Queen Egbo. It's a school that has played big in recent seasons.
But it now heads into this season with questions up front. Egbo and Smith are still on the team and will start, but the depth at the four/five is probably the biggest question mark in Waco. Caitlin Bickle is back, but like Smith and Egbo, Bickle is a senior. The only non-senior big is freshman Kendra Gillispie, ESPN's No. 58 prospect in the class of 2021.
Collen's Baylor team looks a lot more guard-heavy than Mulkey's. She continues the tradition of bringing in a starting point guard from the transfer portal by grabbing Alabama's Jordan Lewis, while the team also brought in Oklahoma State's Ja'Mee Asberry.
What this roster construction might mean for Baylor's offense
It's no secret that Kim Mulkey's Baylor team didn't shoot threes.
Heck, when DiDi Richards was in Waco, the defense-first wing went a combined 0-for-1 from three in her four seasons in green. Then she was drafted by the New York Liberty, where she attempted 22 threes in her 31 games. (She shot 45.5 percent from deep, by the way, which hopefully will forever quiet the "but can DiDi Richards make a jump shot" crowd.)
Per Her Hoop Stats, Baylor ranked in the bottom third percentile in 3-point attempt rate for each of the last seven years. The last four years saw the team rank 343rd or worse in that metric. The team was built to score inside.
Look at last season's shot chart, from CBB Analytics: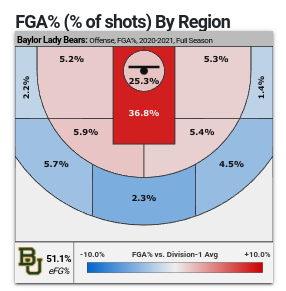 So, everywhere inside the arc, Baylor's field goal attempt rate was above average. At every zone outside of the arc, it was below the Division I average.
Now, that shot distribution makes sense, because of just how good the team was at finishing at the bucket. Baylor shot 70.8 percent at the rim, 12.4 percent above the Division I average. When you have Smith and Egbo on the inside, teams can't really do anything about that, so you're going to score a lot.
That's obviously still true for this season as well, but I anticipate that we see a team that spends a little more time spacing things out.
That might start with more minutes with Smith at the five. The team's two most-used lineups last year featured both Egbo and Smith. That most-used lineup that had Smith play without another big was a lineup with Richards at the four, which played just 27 minutes.
In Collen's last year with the Dream, the team played a handful of lineups with Shekinna Stricklen at the four, which stretched the floor out. Baylor doesn't necessarily have a Shekinna Stricklen, but maybe Caitlin Bickle can wind up playing that role, playing at the four with either Smith or Egbo at center.
But even if the team doesn't mess around with the big rotation to get things stretchier, I expect to see the guards given more free rein to shoot. For some supporting evidence for this, we can simply look at the box score from the team's first exhibition game.
The Bears averaged 10.7 3-point attempts per game last year. In the exhibition game against A&M Commerce, the team took 23 threes. That was more than Baylor took in any single game last year.
That game saw Jordan Lewis take six threes, Asberry take eight, and Andrews take five. Having three starting guards who'll shoot for volume from deep is really going to warp things for Baylor. The Bears are moving into the modern age.
The second exhibition game saw fewer threes, mainly because the offense was just heavily reliant on Smith. But Collen started Bickle at the four in that game and brought Egbo off the bench, with Bickle taking three shots from deep.
It remains to be seen what the starting five looks like when the season tips off. For what it's worth, the official game notes for Tuesday night have the projected starting five listed as Egbo, Smith, Lewis, Asberry, and Andrews.
But even if that's the starting unit, we'll see plenty of Bickle in a Shekinna Stricklen role based on the West Texas A&M game.
And considering Lewis and Asberry combined to shoot over 40 percent from three last year at their other school and shot a combined 312 threes (to Baylor's 332 total), Collen's team is going to look a whole lot different on the offensive end of the field than we're used to seeing.