That Texas A&M lost to No. 7 Tennessee shouldn't be surprising. The Volunteers are one of the country's best teams, the game was in Knoxville and the Aggies probably should have lost. But the way A&M lost...well, that was another problem.
Tennessee routed A&M, 73-45. A&M led 21-20 after one quarter, but from there, things crashed. A seven-point second quarter gave the Vols control. A three-point fourth quarter was, well...it was a thing that happened.
Early on, it looked like A&M would survive losing most of its frontcourt talent to graduation. But now, Gary Blair's final season as head coach looks like it's starting to go off the rails.
A&M was 8-0 at one point. Now the team is 10-4.
So, what's happened?
The roster construction
Any look at this team's struggles probably needs to begin with a look at something we've touched on a few times this season, in good and bad ways: how the Aggies are built.
When I think about Gary Blair, I think about bigs. In addition to Ciera Johnson and N'dea Jones, who played on last year's team, names like Danielle Adams come to mind. Sure, A&M has had some good guards during Blair's time in College Station, from Sydney Colson to Chennedy Carter, but I guess I think of a more traditional brand of basketball when I think about a Gary Blair team.
For better or worse, this year's team is not that.
Blair is essentially throwing out a lineup with four players who are guards/wings and then someone at the five. That someone seems to change pretty often, cycling between Jada Malone, Aaliyah Patty and Sydnee Roby.
The mix of a wing-heavy lineup without a true anchor at the five to steady things has been an issue over the last few games.
Let's take the Tennessee loss as an example, since it's the starkest example of this team struggling.
The lack of a true four meant that the group of Destiny Pitts, Qadashah Hoppie, Jordan Nixon and Kayla Wells had to play together a lot. It also meant that it wasn't until midway through the second quarter that the team put two bigs on the floor together, playing Aaliyah Patty and Sydnee Roby at the same time.
Now, look: all four of those guards/wings are talented players. But I would guess that ideally, one of them would serve as the sparkplug off the bench.
But as is, the team is having to rely too much on the perimeter. Look at this shot chart from the Tennessee loss, per CBB Analytics: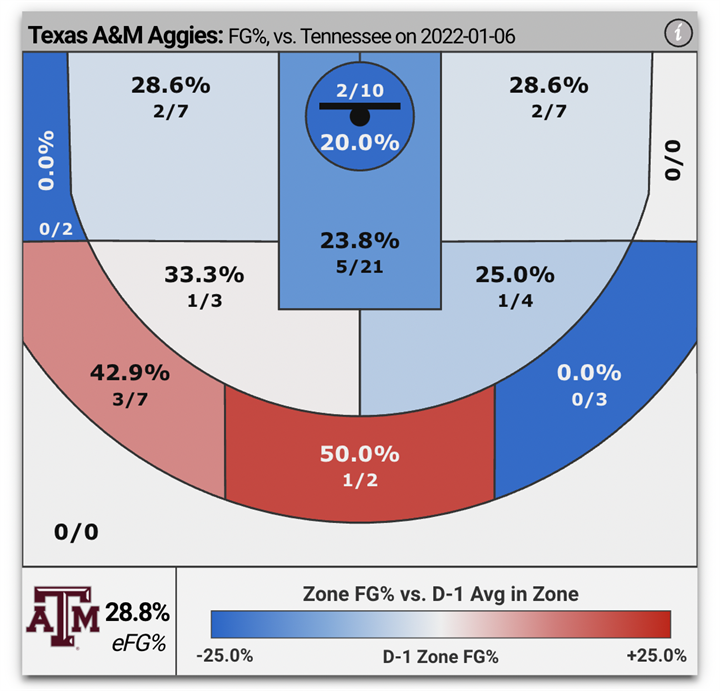 The team's got to figure something out. The advantage of playing with this lineup constructions is you stretch out the floor and create room for players to drive or to run a post up with that space. But if all that leads to is missed shots on the interior, then...well, that's not great.
Issues with the bigs
I think there's a larger issue with A&M though, which is that the team just doesn't have bigs that are ready for the level of play expected of them.
Sydnee Roby has been the best offensive option so far, shooting 58.6 percent from the floor and adding 4.5 rebounds and 1.1 blocks per game. A&M has a 19.2 net rating when she's on the floor and a 16.3 net rating when she isn't.
Roby transferred to A&M after spending her first two seasons at Miami, where she averaged just 8.7 minutes per game. That's been one of the issues with Roby: she isn't giving A&M major minutes, as she's at 17 minutes per game so far. Part of that is Roby is committing 2.9 fouls per game.
As for Patty, she's got the best on/off net rating differential of the team's bigs, with the team being 9.8 points per 100 possessions better when Patty is on the floor. That's good, but Patty is also only shooting 37 percent from the floor this season and ranks in the 13th percentile nationally.
And then there's Malone, who theoretically has the most upside of the bigs. A top 100 recruit this past year per ESPN's HoopGurlz ratings, the first-year big from The Village School is going to be an effective player down the line, but she has the only negative on/off net rating differential of the team's three key bigs.
Malone is turning the ball over 4.5 times per 40 minutes while shooting 42.4% from the floor. She's really struggling at the rim, shooting 46.7 percent there, which is 13 percent below average.
One intriguing thing, though, is that the Patty/Roby combination has been fairly interesting when played together. In 80 minutes where they share the floor, the team has a net rating of plus-35.5 and a 98th percentile effective field goal percentage.
Should A&M play the two together more? The lineup with them plus Wells, Nixon and Hoppie has only played 22 minutes, but has a plus-62.0 net rating.
Maybe the Aggies need to trust the bigs more and not rely so much on the guards/wings? The inconsistency from some of those bigs makes that a risky proposition, but with how the team has been struggling lately, maybe it's worth the risk?