On Thursday, Texas State lost by just two points on the road against UT Arlington, one of the Sun Belt's top teams. That loss ended a three-game winning streak for the Bobcats, who've really blossomed lately thanks to the strong play of Da'Nasia Hood.
It isn't just Hood who has gotten Texas State to the point where they could theoretically beat any team in their conference on any given night, as point guard Kennedy Taylor has been a big part of what this team is doing too, but it's Hood who has been the biggest force for this team, garnering some national attention with her strong play:
Hood has now scored 20 or more points in five consecutive games, with three double-doubles over that span. Her play as ramped up since the calendar flipped over to 2022, which came just after a three-game stretch where Hood came off the bench, including a game against Loyola Marymount where she played just 12 minutes. (I am not sure what the reasoning for that was, as she only had two fouls in the game.)
Anyway, that weird stretch where Hood was coming off the bench aside, she's been key to this team's success lately. Let's go inside the numbers and talk about what Hood is doing.
Da'Nasia Hood's numbers
Let's start with the basic numbers for Hood over the past few games.
Per CBB Analytics, Hood's numbers over the last five games are just mind-blowing. Over the past five games, Hood is:
- Averaging 28.8 points per 40 minutes, which ranks in the 100th percentile
- Has a 71.3 effective field goal percentage, which ranks in the 99th percentile
- Averaging 9.2 paint points per game, which is in the 96th percentile
- Shooting 76.7 percent in the paint, which is 99th percentile
Let's just do a quick speed run here: 95th percentile assists per game, 100th percentile defensive boards per game, 92nd percentile steals per game, 79th percentile blocks per game, 99th percentile field goal percentage, 92nd percentile 3-point field goal percentage, 91st percentile usage rate, 99th percentile true shooting percentage
I could go on, but at this point I'm just throwing a bunch of numbers out at y'all. The important thing here is that Hood is on the hottest of hot streaks and is playing incredible basketball on both ends. The only things not going well for her right now seem to be offensive rebounding — because, well, if you make everything, there's not a lot of chances to grab offensive board — and free throw rate, but isn't it more impressive that she's doing this without drawing fouls?
Now, let's look at her shooting splits in different zones: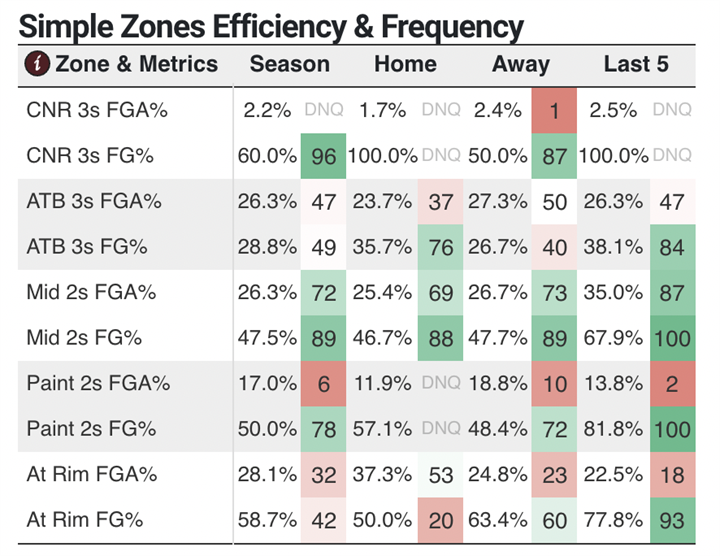 Since we're still focusing on the last five games, that final column is what matters most, and there's something I find really interesting about it: her lack of attempts in the paint.
When I think about efficiency, I think about players working the ball to the rim and scoring there. And while Hood has been super efficient when she does that, her current run is fueled by her being really good in a spot that analytics say isn't a spot where someone should be super efficient: the mid-range, where 35 percent of her attempts over the last five games have come from.
That does introduce some doubt to be about sustainability, since her overall FG percentage from the midrange is about 20 percent less on the season than it is over the last five games, but it's also too reductive to just say "player shoots well now, will not shoot so well later." That would be bad analysis, which we're not here to do. So while Hood's increased efficiency in the midrange should raise some alarms, it shouldn't necessarily set those alarms off. (We'll revisit this later with some tape.)
The other stat thing I want to look at from CBB Analytics is the on/off numbers with Hood.
The Bobcats have a net rating of 10.2 when Hood is on the floor, which is 7.9 points per 100 possessions better than when she sits. Defense is where she makes the biggest difference, as the team allows 10.9 fewer points per 100 possessions when Hood is on the floor.
In terms of specific lineups, if you loo at every lineup from this team that has played 10-plus minutes, the four best by net rating all feature Hood. She makes the team around her better in a way that no one else on this team necessarily does. Kennedy Taylor, for instance, is a really solid point guard who plays really well when sharing the floor with Hood, but the team's numbers when Taylor plays without Hood aren't great, as the team has a -13.5 net rating in those 204 minutes, which is...well, a pretty big sample size.
Some Da'Nasia Hood plays
Let's just discuss some Da'Nasia Hood videos.
First, let's talk about something we didn't touch on enough when talking about her numbers: offensive versatility.
Hood likes to shoot threes, even though she historically hasn't done super well at making them. But during this current run, Hood has really found her outside shot, and her ability to play inside and outside creates a lot of versatility. Look how spaced out the floor is when she takes this shot — there would have been ample room for her to also put it on the floor and drive, because the paint was just completely empty. If defenders have to account for Hood at every level, life becomes easier for everyone else on the court.
Here she is again, hitting the catch-and-shoot three. On this play, the defender just gives her way too much space, leading to the relatively easy bucket.
Here she is hitting the mid-range shot against Georgia Southern. My only thought here is that her jumper is so smooth and she has a really high release, which helps explain why she isn't getting blocked. Per CBB Analytics, she is in the 87th percentile on the year when it comes to blocked attempt rate, and the 100th percentile over the last five. She's got a quick release that leaves her hands above where most defenders can get to, which leaves me feeling optimistic about her ability to continue scoring in the midrange.
Overall, Hood's current level of play feels...not 100 percent sustainable, but mostly sustainable. She's getting good looks. She's aggressive on both ends. The efficiency will come down, but she still makes the Bobcats a nightly threat.