Written by Joseph Duarte | Houston Chronicle
Kelvin Sampson's office is a museum of basketball memorabilia. Walls covered with photos and awards. Basketballs that commemorate milestones sit neatly on a shelf. A wooden box on a nearby table displays championship rings from a 33-year college coaching career. From his third-floor window, Sampson, 67, has a bird's-eye view of the rebirth of the University of Houston men's basketball program.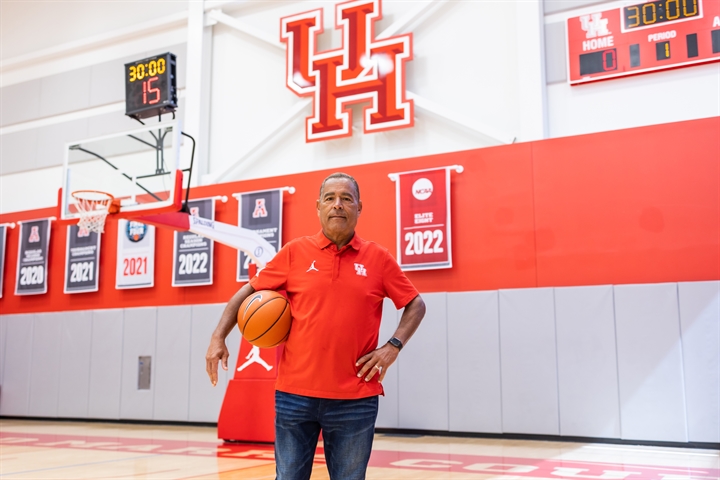 A decade ago, the Guy V. Lewis Development Facility, the crown jewel of Houston's basketball renaissance, was just a dream. More precisely, it was an empty lot at the corner of Cullen Boulevard and Holman Street on the western edge of campus, located in Houston's Third Ward. Next door, Hofheinz Pavilion had become a relic, a faint reminder of the glory days, when it was the place to be in the early 1980s as home to Phi Slama Jama.
If Sampson was going to take over the once-proud Cougar men's basketball program, leaving a job as an NBA assistant coach with the Houston Rockets, it would be on his terms. He was not interested in empty promises. When he interviewed with school officials in April 2014, Sampson recalled: "They were saying the right things, but there wasn't a lot of conviction. I had to get them to buy in."
Sampson had a vision. A proven blueprint as a master builder at previous stops at Montana Tech, Washington State and Oklahoma. For starters, Houston would need to make a sizable investment, beginning with a $25 million, state-of-the-art player development facility that could eventually attract top recruits. Winning, Sampson said, would soon follow.
"I really needed the University of Houston," Sampson said, "and I know they needed me."
How far has the program come as Sampson enters his ninth season?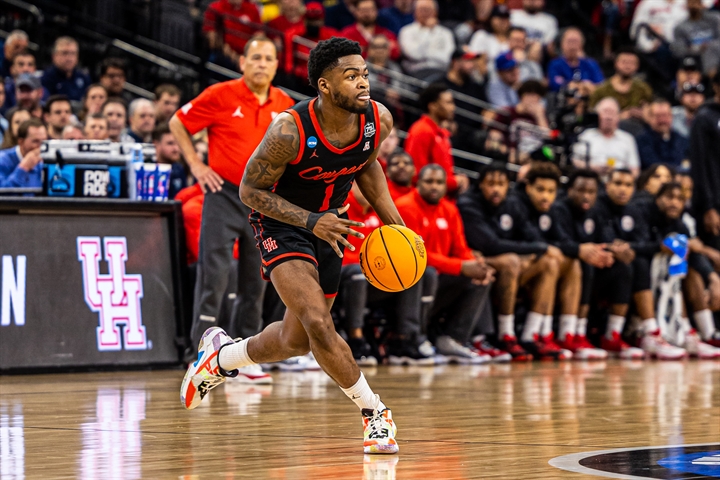 Houston has reached the Sweet 16, Final Four and Elite Eight in its last three postseason appearances (not counting the COVID-19 canceled 2020 NCAA Tournament). The Cougars have captured the American Athletic Conference regular-season title in three of the last four years. Season tickets sold out for third consecutive year at 7,100-seat Fertitta Center as the Cougars have become one of the hottest tickets in a pro sports-crazed town. A $5 million renovation of the player's lounge inside the Guy V. Lewis Development Facility – which opened in 2016 - will begin at the end of the season. The Cougars are one of only 11 college basketball programs with a deal to wear the exclusive Jordan Brand.
Oh, by the way, Houston, which features one of the top backcourts in the nation with Marcus Sasser, Jamal Shead and Tramon Mark, is considered a serious national title contender. In what would be a storybook ending, the 2023 Final Four will be played at NRG Stadium, less than 10 miles from the Houston campus.
"I'm proud of where we are heading," Sampson said. "We've built this thing brick by brick. And it's not easy."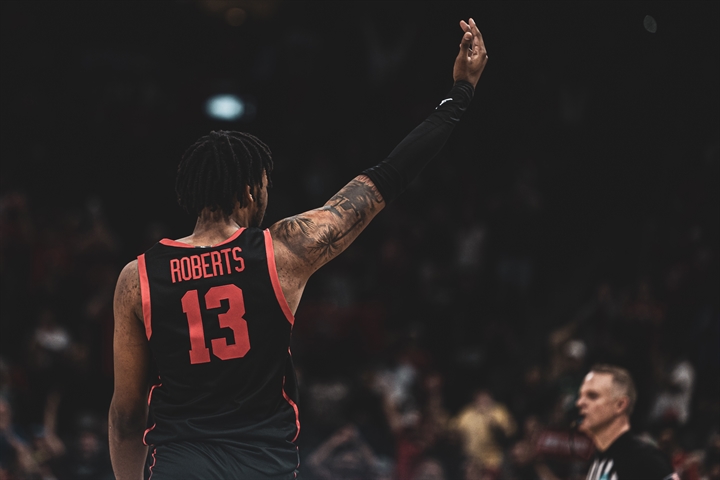 A rock greets visitors as they walk into the player's lounge inside the Guy V. Lewis Development Facility. There's also a sledgehammer, a symbol of what Sampson has based the revival of the Cougar program. "Let's go hit the rock," Sampson frequently tells his staff. "We don't know how many times we are going to have to hit it, but I just know it's going to crack."
Don't call this a rebuild job.
"We had to build it," Sampson said.

Before Sampson's arrival, Houston, largely irrelevant since the Phi Slama Jama days, had been to the NCAA Tournament just twice in the last quarter century. It had been since 1984 since the school won a Tournament game. Six coaches had come and gone since Hall of Famer Guy V. Lewis, the program's winningest coach, retired in 1986.

"This program needed to hit rock bottom because they deserved to. This place didn't have a foundation. We had to start from scratch."

What Sampson heard, or specifically did not hear, left him wondering if the cycle would end. One of the first proposals for the development facility included a basketball court that the men's and women's programs would share, separated only by a black curtain. When recruits came for visits, Sampson and his coaching staff would show them campus, the coaches' offices and "nowhere else." And no one even thought about going to Hofheinz Pavilion, where time had seemingly stood still for decades. Lights in the arena stayed on 24/7 because officials feared they might not come back on.
"When we brought him here, honestly, there was nothing," Houston president Renu Khator said. "We had no resources, no tools. All we had to sell him was a dream.
"He's the coach who makes the impossible possible."
On the court, Sampson inherited a roster with only five players following the defection of a couple star players within weeks of him being hired. Houston went 13-19 in 2014-15, Sampson's only losing season at UH.
"This program needed to hit rock bottom because they deserved to," Sampson said. "This place didn't have a foundation. We had to start from scratch."
Houston won 22 and 21 games the following two seasons, both times qualifying for the National Invitation Tournament. The breakthrough came in 2017-18 when the Cougars went 27-8 and made the NCAA Tournament, beating San Diego State before a buzzer-beating loss to Michigan in the second round. That taste of the postseason was just the beginning.
"By Year 3, we were on the fast track to Year 4," Sampson said. "It was a matter of time before we broke through."
The first NCAA trip was followed by a school record 33 wins in 2018-19 (UH led Kentucky in the final minute before falling in the Sweet 16), and the Cougars were in position for another high seed when the coronavirus pandemic cancelled the postseason in 2020.

In 2021, with the entire NCAA Tournament played in the state of Indiana due to COVID-19 concerns, the Cougars beat Cleveland State, Rutgers, Syracuse and Oregon State to advance to the Final Four for the sixth time in program history. Houston lost to Baylor in the national semifinals, but the message had been sent loud and clear: the Cougars were back on the national map.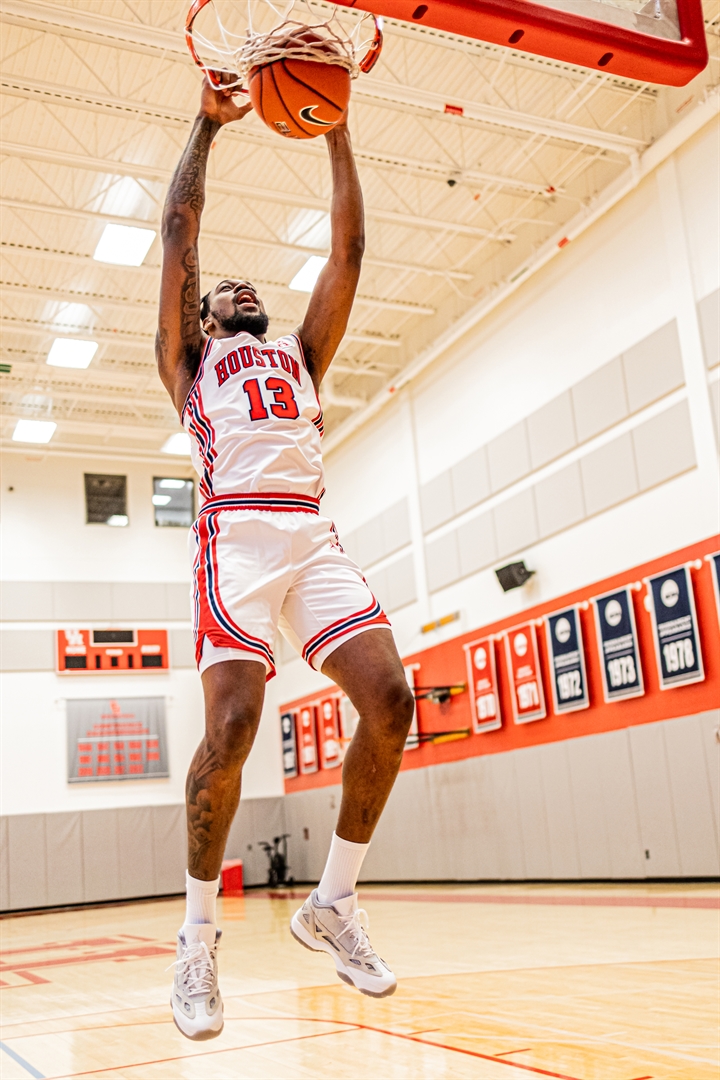 Need proof? Since the 2017-18 season, Houston's 143 victories are the second-most in Division I behind only Gonzaga (155). Houston has gone 60-4 since opening Fertitta Center, a $60 million renovation of the old Hofheinz Pavilion, one of the top home-court advantages in college basketball.
"He bet on himself, and he bet on us," Houston athletic director Chris Pezman said of Sampson. "He willed the program to where it is. That was grit, determination, sheer will and not taking no for an answer."
In what was arguably the best coaching job of his Hall of Fame worthy career, Sampson last season led the Cougars to a sweep of the AAC regular-season and tournament titles, 32 wins and the Elite Eight – all without his top two players, guards Marcus Sasser and Tramon Mark, who suffered season-ending injuries before the start of conference play.
After a 50-44 loss to Villanova, denying the Cougars a return trip to the Final Four, Sampson stood in the middle of a room inside San Antonio's Alamodome.
"We're not going anywhere," he said. "We'll be back."
"CULTURE," is written in red across a T-shirt Sampson is wearing one day this offseason. It's not just a word inside one of the most successful basketball programs in the nation.
"It's a belief," said Sasser, a preseason All-American. "He pushes you to the limits that you wouldn't think of pushing yourself to. He has a plan behind everything."
As the years pass, the names on the back of the jerseys change. The culture does not. Culture is based on Sampson hallmarks: rebounding, defense and toughness. Culture is present during 6:15 a.m. workouts during the offseason. It's a random practice when Sampson expects, no demands, perfection. It's no wonder that one of Sampson's favorite lines – 'Never Lose Your Chip' – is prominently displayed in the coaches' offices. After all, John Willie "Ned" Sampson's – Kelvin's dad – favorite word was "hustle."
"Early morning and late nights, there's a lot we do behind closed doors when nobody is watching," said J'Wan Roberts, a redshirt junior forward. "When the big lights come on, we show what we actually do. It's not easy, but we get it done. A lot of sacrifices we put into the program. A lot of commitment. A lot of people when they talk about top 5 teams, Houston is never mentioned. For us to make our mark and be in that top 10, top 5, it shows the work we put in."
Culture is about family: Sampson's son, Kellen, Houston's lead assistant, has an office a few doors down the hallway and has been designated as his father's eventual successor as head coach-in-waiting; daughter, Lauren, is the program's director for basketball operations. Hollis Price and Quannas White, two key players on Sampson's Oklahoma team that advanced to the Final Four in 2002, are on his coaching staff.
"Coach (Sampson) has done a great job of not changing," said Galen Robinson Jr., a point guard who was on the ground floor of Houston's turnaround. "He hasn't adjusted the recipe. He knows what works and knows how to get the best out of his guys."
It all starts with player development. Robinson, a three-star recruit at Westbury Christian in Houston, finished his career second in program history in games played (136). Fabian White Jr., a three-star forward from Atascocita, wrapped up his career as the program's winningest player with 121 victories. Sasser, a three-star signee from Red Oak, bypassed leaving early for the NBA Draft and could be in the player of the year discussion. Shead, a four-star point guard from Manor, shined during last March's deep run and finished with 221 assists, the second-most in school history.
Sampson has also been selective when using the transfer portal, targeting just the right type of player that fits his system. The list includes Rob Gray Jr., Damyean Dotson, Quentin Grimes, Devin Davis, Corey Davis Jr., DeJon Jarreau, Kyler Edwards, Josh Carlton, Taze Moore, Reggie Chaney and Justin Gorham.
Reloading is nothing new for Sampson. He's had to replace multiple starters in each of the past five seasons, including White, Edwards, Carlton and Moore from last year's 32-win team. Armed with top facilities and a winning pedigree, Houston has seen an uptick in recruiting. Twelve of the top 18 all-time recruits, according to 247Sports, have come on Sampson's watch, among them Mark, Roberts, Nate Hinton, Ja'Vier Francis, Ramon Walker Jr. and incoming class that includes five-star Jarace Walker, the nation's top power forward in '22, Terrance Arceneaux and Emmanuel Sharp. The '23 class currently includes commitments from three four-star players.
In just the past few years, five former Houston players have played in the NBA: Armoni Brooks, Dotson, Grimes, Hinton and Jarreau.
"We've sustained our success over a period of time not because we talk about it, but because we live it," Sampson said.
Sampson was never certain he would return to coaching in the college ranks. His journey has taken him from Butte, Montana, to Pullman, Washington, to Norman, Oklahoma, to Bloomington, Indiana, to a five-year NCAA exile that almost ruined his career. He received a show-cause penalty for making hundreds of impermissible recruiting phone calls (which is now legal) at Oklahoma and Indiana. He spent the time away from the college game with NBA stops in San Antonio, Milwaukee and Houston. Turns out, even as a basketball lifer, there was still plenty to learn. And plenty left for Sampson to teach.
"I was convinced he had learned from those things and owned those things," Mack Rhoades, who as the AD at Houston hired Sampson, told the Houston Chronicle prior to the 2021 Final Four. "He wanted to rewrite his recent history as a college basketball coach."
There was a brief flirtation with the Orlando Magic in 2018. Arkansas came calling in 2019. Sampson calls Houston, "the best job I've ever had."
"There's a reason I stayed here," he told Houston reporters a few years ago. "I've learned over the years that you don't mess with happy. And I'm happy."
Sampson doesn't talk about redemption or resurrecting his career. As for retirement, he's not saying. His current contract runs through the 2026-27 season – when Sampson will be 71 years old – and is worth at least $17.5 million.
"I just wanted to build a program," Sampson said. "There's a difference between having good teams and building a program. I knew how to build a program."
As another season is set to begin, Sampson will go into his lab and attempt to find the right balance in his lineup. He will grab a bullhorn and walk campus to drum up interest, a grassroot effort he still does as the Cougars now reside among the top-tier of college programs.
On a wall as you walk out of Sampson's office is a reminder how far things have come. A framed collage, a gift from Montana Tech, includes newspaper clippings from his hiring and first victory in 1981. It reads: "The Road To 600."
Sampson's next victory will be No. 700. Could this be the year the Cougars finally win that elusive national title?
"The hardest thing is staying good," Sampson said. "Getting good is one thing. Staying good, that's why you build a program.
"This school has never won a national championship, so I'm not sitting here saying that's the goal. The goal is to be the best we can be. I have no idea what this team is going to be like. That's where coaches spoil fans. They think because we won last year, we're going to win this year, we're going to win next year and the following year. You never know. I do know this: we have lofty goals here."