The weekend was centered around one matchup and, more specifically, one player.
To many, Friday's opening Final Four semifinal between LSU and Virginia Tech was a burdensome appetizer to the main course of Iowa and South Carolina where Naismith Player of the Year Caitlin Clark was set to take on the reigning national champions. But neither were crowned champion on Sunday. That honor went to LSU after a 102-85 statement win over Iowa and one player's homecoming.
Even on her own team, LSU's Alexis Morris is typically referenced as the No. 2 behind star Angel Reese. But in her return home to the Lone Star State, the Beaumont-native grabbed the spotlight and pointed toward herself when the Tigers needed it most.
When LSU had to finish out the national title, the team turned to its closer, Morris' alter-ego – "Lex Luthor" – just as it has all season. The Legacy Christian alum had 15 of LSU's 27 points in the fourth quarter including the team's final bucket with 24 seconds to go. She ended with a team-high 21 points after scoring 27 against Virginia Tech in the semifinal.
"When I do go score in those moments, it just settles my team down and keeps everybody cool-headed," Morris said.
Oh yeah, and she did all of that while guarding both Clark and Virginia Tech's Georgia Amoore on defense for most of the game.
"Alexis Morris guarded two of the finest basketball players that our game has," LSU head coach Kim Mulkey said on Sunday.
Amoore finished with 17 points on 4-of-17 shooting and while Clark, the Naismith Player of the Year, had 30 points, she was hounded all day by Morris and had six turnovers.
"Obviously we knew that they were going to come out with that aggression with us being up, and I just don't think we were good enough to stop Morris coming down and playing with that confidence," Amoore said after the semifinal.
After Iowa notably defended South Carolina with a deep-sagging coverage perimeter defense in its semifinal, daring the Gamecocks to play perimeter-oriented offense, Morris stressed that LSU won't be beaten that way. LSU's guards finished with a combined 65 points and were 11-of-17 from deep.
"Me personally, I find it very disrespectful, so I'm going to take that personally going into that game," Morris said before the national title game on Sunday. "You're going to have to guard us. That's just the competitor in me, and the will to win."
Morris' journey to becoming a national champion two-way star had its rocky patches that she doesn't shy away from talking about. It's all part of her story that she embraces, especially now that it's ended successfully.
"Just the comeback, it's bittersweet that I have to leave, but it's like I'd rather leave on top than anything, compared to anything," Morris said.
This season was actually the second time she'd played for Mulkey. She was kicked off Baylor as a freshman in 2018 before transferring and leaving both Rutgers and Texas A&M over the next few seasons. She even thought about quitting basketball at one point. She couldn't find her home. Her path eventually led her back to Mulkey, this time at LSU.
"I believe in God, and I asked God one day, I was sitting in the car in Reno, Nevada and I was like 'God, if you ever give me the opportunity to reunite with Coach Mulkey'," Morris said. "Cause I've always felt that every player has that coach that's for them and Coach Mulkey is my coach, she's my twin flame in a way. I asked God 'If you gave me the opportunity, I would never waste it'."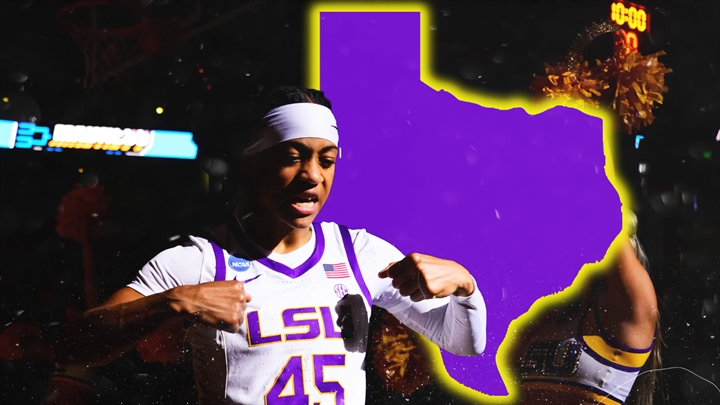 The fifth-year senior was named Second-Team All-SEC this year and was LSU's spark and a key part of the swagger it proudly displayed.
"That smile, that spunk…Never ever has that child disrespected me in any way. Ever," Mulkey said. "When I had to dismiss her, it was for the sake of the locker room (at Baylor) and the sake of making a tough decision to not lose your team.
There are many people you dismiss from your team and say, 'Good riddance', you're a cancer in the locker room' – she was not ... Look where she's sitting today. What a remarkable story."
Heading into the Final Four, Morris hadn't been the most effective scorer. She barely cracked 20 points in the Elite Eight against Miami and two performances or 30 percent and 28 percent shooting in the NCAA Tournament. Back in her home state, she showcased her two-way ability to arguably the best of her ability. A fitting return to Texas for a player who'd endured so much since leaving her home state.
"She's a first-rounder, I've said it all year," LSU's Angel Reese said. "I tell Alexis don't turn it on and off, you can kill it every single possession you can if you really want to.
"I'm proud of Alexis. Alexis Morris is Alexis Morris, but when it's Luthor time, it's Luthor time. I'm just so proud of her.
"Being an inner-city kid, I just hope I'm empowering the youth and showing them you can choose the right way instead of the wrong path," Morris said. "…So hopefully the kids in the younger generation can look to me and be like I can be somebody. It don't matter, girl or boy. So, yeah, I know my city's standing behind me too. Beaumont, I love you."